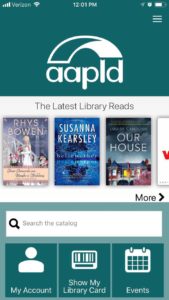 The new AAPLD mobile app is now available in the Google Play Store and the Apple App Store!  The easiest way to find it is use the search term: "AAPLD." You can also search using "Algonquin Library," "Algonquin Area Library," and "Algonquin Area Public Library."
Your favorite features are here:
"Show My Library Card" to reveal your library card bar code and number for convenient checkouts
Catalog Search feature with more accurate results (really!)
"Events" feature, which allows you to sign up for library programs and events AND add them to your calendar.
You can also use the app to scan an ISBN when you're at a store to see if we have the book in the library — which could save you money! You can also check out our online learning resources easily, access kids' favorites like Tumblebooks, review our digital collections, and access your AAPLD account quickly and easily.
The old app, if it is installed on a device, will continue to work but it is no longer available in either store, and the information will be out of date.
We're excited to offer you this clean, hardworking app to improve and enhance your experience at the library.
Questions about downloading and/or using the app? Be sure to stop by our Adult Services desk and one of our friendly, knowledgeable staff will help you.