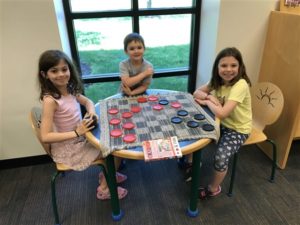 Bring the fams and enjoy an afternoon of "gaming" on Saturday, November 4 from 1 to 4pm at the Harnish Main Library. You'll find classic, traditional, and newer tabletop games like Giant Jenga, Pictionary, sorry!, Zombie Dice and Mario Party. Game enthusiasts of all ages are welcome to bring their own game and share. We are also a PokeStop and PokeGym site so you can look for lures or do battle in our gym. While you're here, enter a drawing to win a game of your own! No registration required.
As noted in an August 2017 article in USA Today, there is renewed interest in board games as families look for ways to spend time together and people in all age groups seek to unplug. "Sales of hobby games — a complex and strategic variety of board games — in the U.S. and Canada grew 21% in 2016, says Milton Griepp, president of industry news outlet ICv2."
Whatever the trend, board games are here to stay! Drop in any time between 1 and 4pm on Saturday, November 4 and try a new game or two. Or just pull up a seat at the Pictionary table and have some fun with an old favorite.