From Humble Roots Comes Remarkable Growth

Today's Algonquin Area Public Library District circulates more than 900,000 materials and receives more than 300,000 visitors every year. And to think it all began in the Village Hall.
Perhaps the members of the Algonquin Women's Club first bantered about Ethel Dell, Zane Grey or other prolific authors of their day before settling down to vote in favor of sponsoring a public library. It was 1920, and the Village Hall council room provided enough space for a few library shelves. Original donors contributed 126 books and established a $600 book fund. The Library opened to serve the public on February 23, 1921. At the time, Algonquin businesses agreed to donate $1 per month in support of the new library. (The Library became tax supported in 1925.)
Emma Taylor served as the first Librarian. George D. Keyes, Helen S. Rattray, Ella M. Kee, S.W. Bond, Fern Miller, and Fred Duensing comprised the initial board. Many of these family names may seem familiar, as multiple generations have resided in the area.
To better serve the entire community, a referendum passed in 1962 to create the Algonquin Area Public Library District (AAPLD), a 14-square-mile area encompassing Algonquin, Lake in the Hills and Haeger's Bend. Today's AAPLD covers more than 30 square miles and includes portions of Cary as well.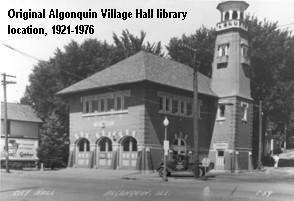 The Library continued to function in the room above Village Hall for 50 years and completely filled all available space. Administrative Librarian Freda Stahl jokingly speculated that the Library might end up in Village Hall if one more book was added to the weight of the shelves. So, the Library began looking to the future. In December 1973, the Algonquin Area Public Library agreed to purchase a site on Eastgate Drive for $37,000.
Building discussions ensued, and by June 1975 voters approved a referendum to build a new 16,000-square-foot library for $595,000. The population of Algonquin and Lake in the Hills had grown to 10,000, and the area was poised for additional growth (today's Library district covers 40,000 residents of Algonquin, Lake in the Hills and Cary).
March 27, 1977, the Board of Trustees held a gala open house, welcoming the community to visit their new library and check out something from the expansive 20,000-volume collection. A letter from a resident to the Cardunal Free Press called the new library "the greatest one thing happening to the Algonquin area since flushing water closets." Over the next 23 years, the Library's collection expanded another seven times its size…without nearly enough space to house it all.
A $7.8-million bond issue was passed in 2000 for the construction of a new library facility just west of Jacobs High School on Harnish Drive. Through the generosity of the Village of Algonquin, the Library leases the 4.5-acre parcel for just $1 per year. This benevolent agreement allowed the Library to dedicate available funds to the building itself. The 35,000-square-foot facility opened October 15, 2001.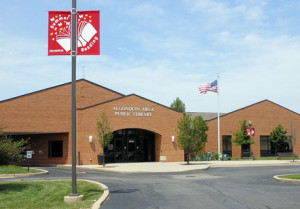 In April 2001, a tax rate increase provided renovation funds for Eastgate, and it re-opened as a branch library about 18 months later. Maintaining smooth operations between both facilities has been an ongoing initiative. Originally, the branch was established as a condensed, mini-version of the main library. Eastgate has since evolved into a "Popular Materials" location – a convenient spot with the hottest new titles in books, movies and magazines.
Eastgate also features computers, Wi-Fi, and study/meeting rooms, and serves as the site of the periodic Friends of the Library book sales. Proceeds from those book sales allowed the Library to acquire a shuttle van to deliver materials between facilities. You might've noticed our colorful van travelling across town!
Following 25 years of dedicated service, Administrative Librarian Randy Vlcek retired in 2010. His successor, Lynn Elam, spearheaded many changes aimed at keeping your Library a vibrant, relevant part of the community. Current Executive Director Stephen Bero is continuing the trend of increased programming and community outreach, which means you'll find AAPLD in more places than within our library walls. We're participants in area parades, the Chamber of Commerce Home and Business Expo, and the Rock on the Fox celebration, as well as cooperative efforts with the Algonquin Parks and Recreation Department.
Carrying out this vision for an outreach-centric library extends beyond staff. No two groups demonstrate this commitment quite like our Board of Trustees and our Friends of the Library volunteers. Their mission: to advocate and educate on the Library's behalf. Their motivation: to enrich our community with the best library possible. Throughout AAPLD's history, our trustees and volunteers have represented an impressive array of backgrounds – from doctors, teachers, attorneys and shopkeepers to pastors, retirees, homemakers and business professionals.
Educational Partnerships and Initiatives
AAPLD strives to make every student brighter and better-equipped to succeed. This applies to pre-school-aged children, those enrolled in private or public school and homeschooled learners as well.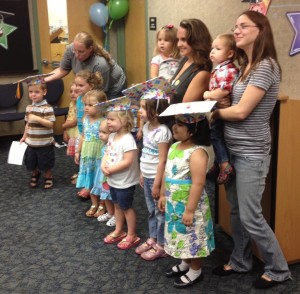 In January 2013, AAPLD launched the 1,001 Books Before Kindergarten program. More than 400 children enrolled during the first year. This innovative program provides the building blocks for early literacy, and rewards the parent/caregiver and child for their extraordinary achievement. The Library also hired its first certified educator to further develop our early literacy efforts.
The Library also hosts an annual Preschool Information Night. Due to its popularity, this event is now held at Jacobs High School. Parents and caregivers can meet representatives from more than 25 local preschools and determine the best fit for their young student.
Expectations rise as children proceed through today's educational channels. When District 300 implemented the stringent Common Core requirements, the Library acted to assist with meeting the standards by launching a Homework Center (via a state-awarded grant) comprised of study aids and online resources for students, parents and educators.
The Library also hosts ACT Prep classes, youth/teen book clubs, STEM programming (Science, Tech, Engineering & Math), college information nights and after-hours study nights. Online resources such as Brainfuse provide a wealth of 24/7 opportunities for students and adults requiring academic assistance, testing guides and much more.
Toward a Dynamic Environment
We have lots of books – nearly 200,000 of them on our shelves, and millions more available from our partner libraries. We also carry 22,000 DVDs, 3,500 videogames and 11,000 ebooks.
And within the past few years, AAPLD has added a remarkable array of online resources. Cardholders can visit aapld.org and learn a foreign language, download free music, obtain homework assistance, research genealogy, peruse digital magazines, order and renew books, and much more--from virtually any internet-based device anywhere in the world.
In 2014, the Library acquired a MakerBot Printer to allow technology students from Jacobs High School to convert their computer-designed innovations into three dimensional objects. The 3D printer soon become available for public usage. If you've "built a better mousetrap," we can help you create the prototype. The public library has always served as a place where dreams are launched – whether it's through the inspiration of a well-written novel or the incubation of an entrepreneur's million-dollar idea.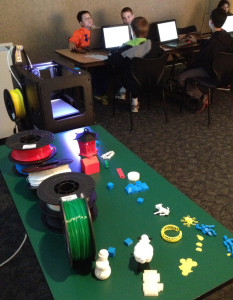 We are available on your computer, your phone and your tablet. And most importantly, we are here…in the Harnish Main Library and the Eastgate Branch Library. Thousands of children and adults participate in our book clubs, storytimes, writers' groups, and summer/winter reading programs. Since opening in 2001, nearly 5 million visitors have visited the Harnish Main Library.
A 2011 community-needs survey helped us address the natural wear and tear of our well-utilized facility while simultaneously initiating a technology upgrade. The Library's lobby renovation took place during October 2013. The repurposing of space provided additional express checkout stations, vending services, a social area, customer service desk, and an automated materials handler for more efficient returns of materials.
We believe in a welcoming environment and top-notch customer service. And others have recognized our efforts. For four years running, your Algonquin Area Public Library earned a Star Library designation from the Library Journal. The industry-leading magazine compares U.S. Public Libraries on the quantities of services delivered, including: visits, program attendance, circulation of materials and public usage of internet-based computers. Illinois has more than 600 public libraries. Only 20 libraries from the state were recognized. Within our size category, AAPLD rated #7 in the state and #21 nationally.
We might've earned the award, but our community – from the earliest visionaries of the 1920 Algonquin Women's Club to the youngest participant in our 1,001 Books Before Kindergarten program – truly made it possible. Thank you.