We've rescheduled our January 30 blood drive to Monday, March 11 from 3 to 7pm. You'll feel great doing something for our community–and you'll receive a Culver's coupon!
The Heartland mobile coach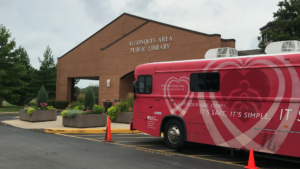 will be parked in the Harnish Main Library parking lot. It's the perfect time (and place) to help your community!
Appointments matter, both to Heartland representatives and to the blood donors who make them. While walk-ins are welcome, Heartland will preference donors with appointments and ensure that they are always at the front of the line.
If you do walk in to donate, please review the remaining open appointment slots on our schedule and choose a time to be worked into the schedule to avoid a wait. If there is a wait time, you are welcome to stand by to see if any of the scheduled donors do not show for their appointments. If that situation occurs, Heartland will be happy to process you in their place.
Please call Theresa at the library (847-458-3133) or Carrie at Heartland (815-271-2910) with questions or to schedule your appointment. Or click here to schedule your appointment using the online Heartland blood donation scheduler.
Giving blood is a simple way to give back to your community. Never gave blood before? Learn about donation eligibility and the donation process.