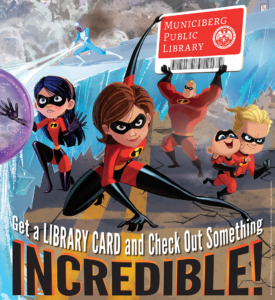 Since 1987, the American Library Association (ALA) has observed Library Card Sign-Up Month each September to mark the beginning of the school year. Libraries work to remind parents and youth that signing up for a library card is the first step towards academic achievement and lifelong learning. AAPLD is happy to participate and encourage residents to stop by and sign up for their card today.
Throughout the school year, library staff will assist parents and caregivers with saving hundreds of dollars on educational resources and services for students. From free access to STEAM programs/activities, educational apps, in-person and virtual homework help, technology workshops to the expertise of librarians, a library card is one of the most cost effective back to school supplies available.
Disney Pixar's superhero family, the Incredibles, has teamed up with libraries around the country to promote the value of a library card. As honorary chairs, the Incredibles reminds families, students and people of all ages that signing up for a library card is a great step toward a truly super lifestyle: libraries offer fun and informative resources to help you pursue your passions and succeed in school.
How much money can you save?  Visit our Library Value Calculator to total your savings.
The ALA is the foremost national organization providing resources to inspire library and information professionals to transform their communities through essential programs and services. For more than 140 years, the ALA has been the trusted voice of libraries, advocating for the profession and the library's role in enhancing learning and ensuring access to information for all. For more information, visit ala.org.