On Wednesday, June 14, the Board of Library Trustees issued a proclamation in conjunction with the Village of Algonquin: June 19-25 is Pollinator Week!
In 2007, the U.S. Senate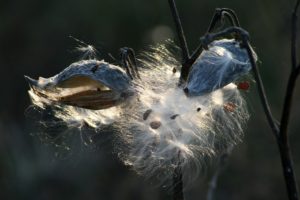 unanimously approved the annual designation of National Pollinator Week in June. It marked a step in recognizing and addressing the urgent issue of declining pollinator populations. Pollinator Week is now an international celebration of bees, birds, butterflies, bats and beetles as critical contributors to Earth's ecosystem. This is a time to celebrate pollinators and spread the word about what you can do to protect them.
AAPLD and the Village of Algonquin will work together to make a difference for pollinators in general — and the monarch butterfly in particular — by planting the native milkweed and nectar plants that are essential for pollinator habitat. Visitors to the Harnish Main Library or Eastgate Branch Library can pick up free packets of milkweed seeds June 19-25 (one packet per household; while supplies last). During National Pollinator Week, AAPLD will provide pollinator education through displays of library resources and social media posts. The Library is also developing a pollinator garden in a raised planting bed near the Harnish Main Library building.
What can YOU do to protect and support pollinators?
Plant a Pollinator Garden
Download the BeeSmart Pollinator Gardener, an easy-to-use app to help you plant a garden that butterflies and other pollinators will love.  Check out eco-regional planting guides from Pollinator Partnership.
Provide Nesting Habitat 
Discover the critical plant for Monarch butterfly feeding and breeding via the USDA Forest Service web site.
Avoid or Limit Pesticide Use
A chemical-free garden is best for all pollinators, as pesticides can kill more than intended. Learn more from the U.S. Fish & Wildlife Service.
Keep Learning!
Visit Butterfly gardens for inspiration or just to enjoy our winged pollinator friends at:
Chicago Botanic Garden features a butterfly exhibit May 27 through September 4 (weather permitting)
Nicholas Conservatory & Gardens is a Rockford-area attraction features a butterfly exhibit in the Spring.
Peggy Notebaert Nature Museum in Chicago has a year-round indoor butterfly haven.