Spring is here…and so is our new Teaching Garden at the Harnish Main Library!  With four raised beds, each planted with a unique garden plot, the Teaching Garden will be an active outdoor learning laboratory.  It will offer learning, gardening, and programming opportunities to residents of all ages.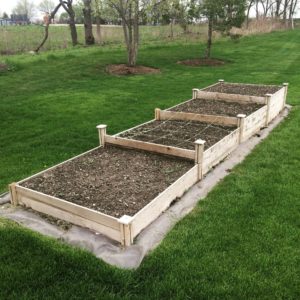 The Teaching Garden will contain a STEM-themed garden bed for youth, a square foot vegetable garden bed for all ages, a cutting garden, and a raised sensory garden bed. Vegetables and plants harvested from the gardens will be donated to the Algonquin-Lake in the Hills Interfaith Food Pantry. Programs will be offered in partnership with the Village of Algonquin Recreation Division and McHenry County Master Gardeners. Don't miss our May adult events in the Teaching Garden:
Planting the Cutting Garden
May 4, 6:30 to 7:30pm
Thinning the Garden
May 18, 10 to 11am
Planting the Sensory Garden
May 23, 6:30 to 7:30pm
The Library will be offering once-a-week open sessions with University of Illinois Extension Master Gardeners on hand to answer gardening questions from patrons and the general public.  Master Gardeners will also introduce patrons/public to the gardens, explaining the four different beds and answering questions about the plantings.
For more information about the Teaching Garden, please contact Alexa Newman at 847-458-3168 or anewman@aapld.org.