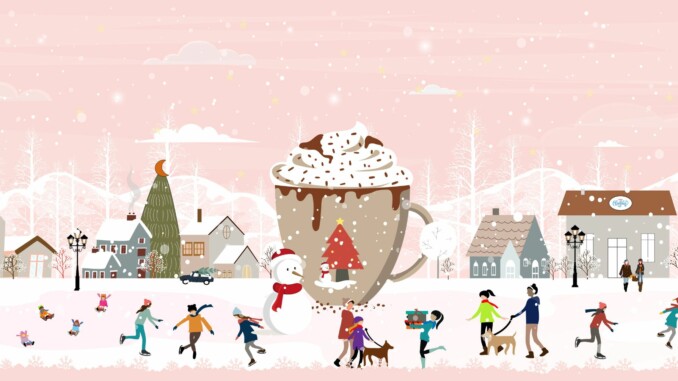 There is nothing quite like a cup of warm hot chocolate on a cold winter day. Studies have shown that you'll more thoroughly enjoy drinking hot chocolate from an orange-colored mug. Research tells us that consumers find the beverage has enhanced flavor, aroma, and sweetness. And while it is not scientifically proven, it is this staff member's belief that you'll thoroughly enjoy your holiday more if you join in for these cheery events that are guaranteed to put you and yours into the holiday spirit.
Jacobs High School Madrigals Holiday Performance
Monday, Dec. 12 from 4-5 PM -- A holiday favorite! Come support the JHS Madrigals as they perform seasonal songs acapella, both medieval and modern, dressed in traditional Elizabethan costumes.
Merry & Bright: A Community Tree Trim
Dec. 19 to Jan. 2-- Driving around to look at the lights in your neighborhood? Be sure to swing by the Harnish Main Library. We are proud to welcome 15 local organizations to decorate their very own trees. Vote for your favorite tree inside the Harnish Main Library. The top three organizations to receive the most votes will win a trophy…and bragging rights!
Community Ugly Sweater Contest
Submit Your Photo by Dec. 18-- Whose is the "ugliest" of them all? Submit your ugly sweater photos to social@aapld.org by Dec. 18th for a chance at a $30 Target Gift Card. Submissions will be printed and hung at the Harnish Main Library and Eastgate Branch from Dec. 19-23. Only one submission per person. Stop by and vote for your favorite ugly outfits. The winner will be contacted after the holiday season.
Create a Vintage Ornament
Through Dec.-- Arrange a miniature scene inside of a jar lid to create an imaginative decoration reminiscent of 1950s diorama-style ornaments. This drop-in project can be completed in the month of December during opening hours when there are no scheduled classes.
Still looking for more? Try these out