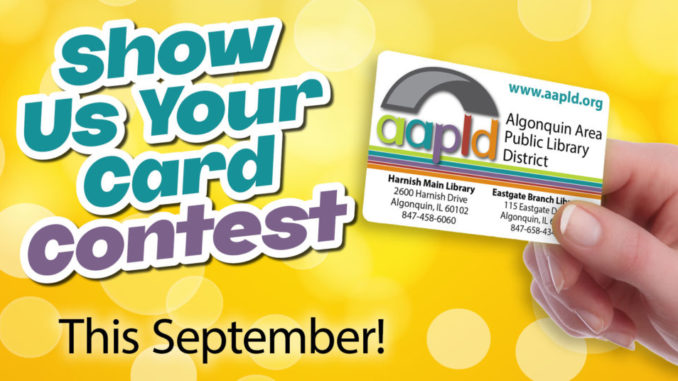 Since 1987, the American Library Association (ALA) has observed Library Card Sign-Up Month every September to mark the beginning of the school year. Libraries, like AAPLD, work to remind our community members that signing up for a library card is the first step toward academic achievement and lifelong learning. This year we are getting out in the community to connect with you as well as distribute new yard signs to show your library lover pride for FREE. Pop over and grab a sign before they're all gone.
SHOW US YOUR CARD CONTEST
Already have your library card? Sweet! This month your library card gives you even more. Visit the following places and SHOW US YOUR LIBRARY CARD to be entered to win (1 of 4) $25 gift cards.
Gift card prizes are to the above businesses. Winners will be directly contacted at the end of the month by a library staff member. This contest is subject to change at any time without notice. Be sure to check back to this page for up-to-date details.
GRAB A 2022 "WE ❤ OUR LIBRARY" YARD SIGN FOR YOUR LAWN
Show pride in your local library by displaying a 2022 AAPLD Yard Sign at home. They are free and available for pick up at both the Harnish Main Library and Eastgate Branch starting Sept. 1st on a first-come-first-served basis while supplies last. All signs will go so don't delay. We ask that all takers of yard signs keep their signs up till the end of September 2022. However, you're welcome to keep the sign out longer. We certainly appreciate it!
DECORATE A LIBRARY CARD HOLDER
We know you all love crafts! Grab a Library Card Holder craft to bring home and decorate. You can pick up the craft at Eastgate Branch or at the Youth Services Desk at Harnish Main Library throughout September.