The Harnish Main Library art gallery currently features
 the photography of Algonquin resident Emily Duthorn, bringing you the mesmerizing geography in various locations of the United States and beyond. Involved in creative projects of various types her entire life–from painting to sculpting to dance–Duthorn has always enjoyed taking pictures capturing the essence of a moment and playing with composition, color, and texture. This is her debut exhibition.
Describing herself as an Algonquin local and nature girl, Duthorn says her "much-needed" travels over the past year were awe-inspiring. "I learned so much about the world we live in and the people we share it with," she says. "I was captivated by sights and landscapes I had never seen before. I wanted to capture the experience to keep forever and I attempted to do just that. I find that the results are just as raw and beautiful on film as they were in real life."
Duthorn hopes those who visit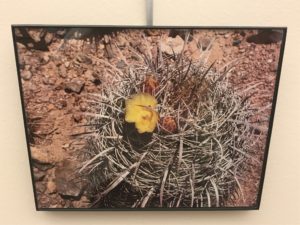 the gallery are just as surprised and inspired by the mix of majestic, rugged, and serene natural beauty that inspired her to take these photos. She hopes the photos inspire others to venture into the world and see the beauty wherever they go.
Visit Emily Duthorn on Facebook at Catbird and Phoenix.