Join us on Monday, August 21, to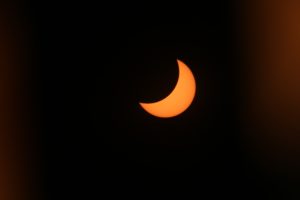 experience the first total solar eclipse visible in the continental United States in 38 years. To see the eclipse well, NASA recommends a clear spot with a good view of the sky, which you'll find at the Harnish Main Library. Our event runs from 11:45 to 2:45pm, with the peak of the eclipse at 1:19pm in our area. The closest location to view the total eclipse (when the sun is completely blocked by the moon) is in Carbondale, Illinois.
Never look directly at the sun without appropriate eyewear: regular sunglasses are not safe to view the eclipse. The library will be giving out special viewing glasses to attendees on August 21 (courtesy of the Gordon and Betty Moore Foundation with additional help from Google, National Science Foundation, and NASA). Solar eclipse viewing glasses will be given out on a first-come, first-served basis, one pair per person (ages 5 and older).
We will distribute tickets for the viewing glasses in the café area beginning at 9 am on Monday. We will give out one ticket per person in line (ages 5 and older), with no exceptions. Tickets can be redeemed for glasses beginning at 11:30 am. Distribution of the glasses will take place outside, in front of the library building, in a special cordoned-off area. Only people with a ticket will get a pair of glasses.
Attendees are also welcome to view the eclipse safely via the NASA Television livestream broadcast in our lower level meeting room and on the screen on the first floor. We will also have many self-directed eclipse-related activities, such as how to make a sun dial, drawing a corona, an "Eclipse in Six" project, a UV light experiment, and more. Pinhole viewers will be available at the Youth Services and Adult Services desks upon request.
A solar eclipse happens when the moon casts a shadow on Earth, fully or partially blocking the sun's light in some areas. Observers within the path of totality will be able to see the sun's corona (weather permitting). Observers outside this path (such as our location) will see a partial eclipse.
The next total solar eclipse visible over the continental United States will be on April 8, 2024. Read more about the eclipse at nasa.gov.
Via MentalFloss.com, a recollection of the scientists who raced to view the total solar eclipse in 1878.
Adapted from Experience the 2017 Eclipse Across America (NASA, Rev 6/17).