Jennifer Lilliebridge is happy to present this mixed-media collage collection at the Harnish Main Library.
As a student of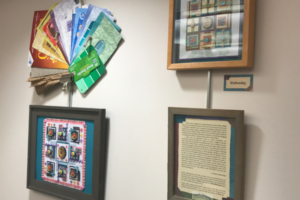 commercial art/advertising/graphic design Jennifer knows a lot of thought and planning goes into the design of what we throw away, whether it's the pattern printed on a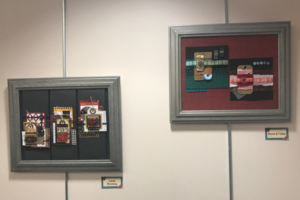 tissue box or the complicated cardboard packaging of a bottled six pack. She started noticing it all, and wondering to herself "What can I do with this? What can this become?" Art from refuse was the result.
The focus of the gallery pieces was the use of reclaimed materials such as product packaging, ephemera, book/magazine/newspaper pages, packing material, wooden items (sticks/skewers/popsicle sticks/post-kicked karate boards). She used these items sometimes blatantly and sometimes covertly, decoupaging or painting them to enhance their pattern and texture.
Color was an important factor, as most recyclables are cardboard-colored and dull on at least one side. Jennifer sought to elevate these materials and included embellishments such as buttons, beads, bingo chips, ribbon, fibers, cording, drywall tape, paint chips, formica countertop samples, and found metal pieces. She was attracted to the text and colors that advertisers used in their product designs.
"I hope you enjoy the result of my recycling bin raid," Lilliebridge says. "You'll have to excuse me now…my studio is just TRASHED! I'd better get started cleaning up."
Jennifer Lilliebridge is an artist, wife, and mother of two very artistic kids. She and husband Peter run a creative design company called 'Cross the Lilliebridge, which specializes in graphic design, illustration, logo design, cross-stitch patterns, and custom cards (lilliebridge.com). Jennifer will be teaching mixed-media collage classes at the Lake in the Hills Village Hall starting in June. Check the Village's Parks & Recreation seasonal brochure or register through their website (www.lith.org).