This summer, do something amazing: donate blood! On Wednesday, July 26, 3 to 7pm, Heartland Blood Center will be at the Harnish Main Library with their mobile blood drive coach to help offset low inventory levels for the current blood supply. Plus, every donor receives a $5 Target gift card!
Make a difference and schedule your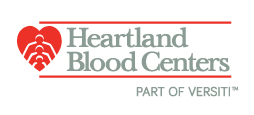 appointment today. You can call Theresa Therens, AAPLD Blood Drive Coordinator, at 847-458-3133, or Carrie at Heartland Blood Centers at 815-271-2910.
So what's involved? Per Heartland Blood Centers, here's what will happen at your donation appointment:
Registration
Heartland staff will ask you for information about yourself: name, address, phone number, and give you some important literature on blood donation to read. You must present a photo I.D. and proof of age at this time.
Screening & Mini-Physical
Next, Heartland  staff will conduct a confidential interview in which they will ask you questions about your medical history to determine your eligibility to donate blood. They will give you a mini-physical during which they check your pulse, blood pressure, temperature and iron level. After the mini-physical, you are ready to donate!
Donation
Every donation is collected with a new, sterile kit. Giving blood is safe. You cannot get AIDS or any other disease by donating blood. While you relax in a comfortable donor chair, Heartland staff will cleanse your arm with antiseptic, and then draw about one pint of blood. It takes about five to eight minutes to donate whole blood, longer for automated donations such as platelets or double red cells.
Refresh
After you give, you are encouraged to enjoy some juice and cookies in the refreshment area. Your body will replenish the fluids lost during your donation in approximately 12 to 24 hours. Normally, eight weeks are necessary for total red cell replacement. Your donation will then be taken back to the Heartland Blood Center laboratory for testing and processing. The entire process takes about an hour.
It's easy! Make your appointment today.