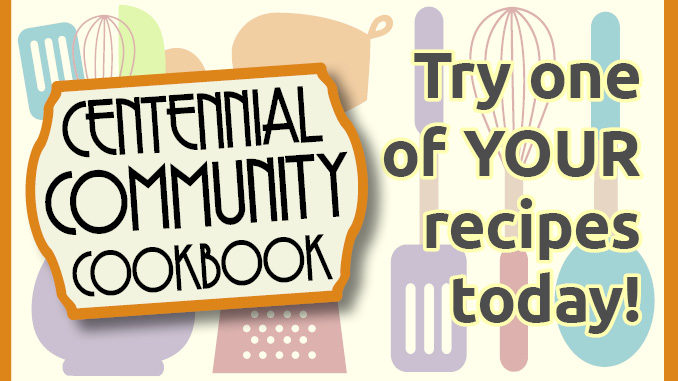 For several months in 2021, AAPLD was collecting favorite recipes from community members and businesses in the area. We are ecstatic to announce that nearly 200 recipes were submitted by community members like yourself.
Throwing a party? Try whipping up the Kolb Family's Bagel Dip for an appetizer. Into baking? Try Grandma D's Ashtabula Rolls! Impress your significant other with Debbie Miller's Breakfast Souffle in bed. Have time on your hands? You won't regret making Arlene and Gary Christopherson's Gumbo. The kids will be impressed at dinner time when you pull out Judy Schneider's Meatloaf Wellington from the oven. Perhaps, you should treat yourself to a local recipe from Sherry Brewer of Victorian Rose Garden Bed & Breakfast and her Chocolate Truffle Cookies recipe.
You're sure to stumble across something mouth-watering with our Centennial Community Cookbook. This cookbook will be available for checkout with your library card and available for purchase for $15 while supplies last. However, you can get a head start by viewing and downloading a digital version now!
This cookbook commemorates our first 100 years as a staple organization of the community. Your local library will always be your resource for learning, entertainment, community, and more. A huge thanks to everyone that has contributed to this project. We look forward to serving the community for another 100 years and hope you all enjoy these treasured family and local business recipes for decades to come!
Enjoy! Bon appetite! Smacznego!