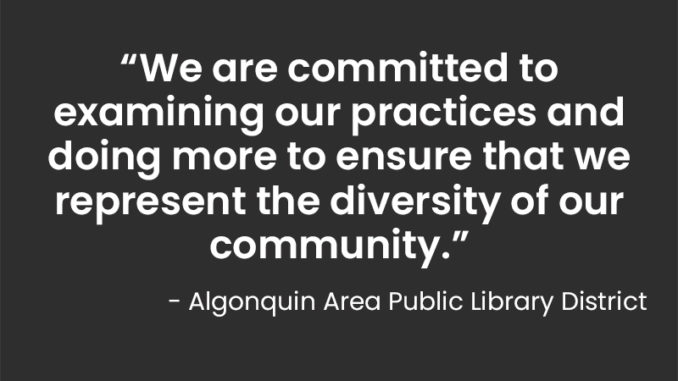 Recent events have resulted in actions and conversations around the racial inequities in our country, and are
causing many people to pause and give consideration to the broad and painful impacts of ongoing systemic
racism and devaluing of Black lives. As an institution that stands for equity, access, and diverse representation,
the Algonquin Area Public Library District is committed to examining our practices and doing more to ensure
that we represent the diversity of our community and allow people to see themselves and others in the
materials and services we provide.
AAPLD is committed to conscientious efforts to better serve our whole community. We are taking action to
create opportunities for community learning and an environment of awareness and inclusivity in the library.
We are building our print and digital collections to meet demand for anti-racist materials, creating lists for adults and children with diverse characters and messages of anti-racism, and we will be auditing our programs and collections to ensure that Black and other non-white voices are not only represented, but celebrated.
We envision AAPLD as a place to be who you are and explore who you can become. We invite you to explore
and engage so that we as a community can become better together.