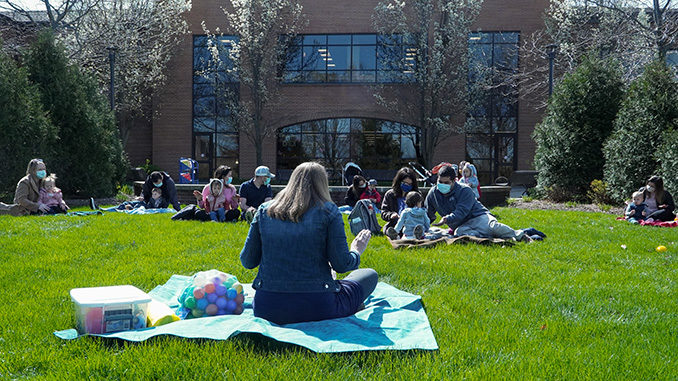 Ready to enjoy in-person programs again? So are we! AAPLD is happy to announce a selection of programs held outdoors for adults and kids. Check our June/July newsletter for programs designated with a sun symbol.
Please note that masks will be required for ages 2 and over at all outdoor events, and social distancing will be observed. Events will be cancelled in case of inclement weather. Check with the library for updates.
Outdoor Nostalgia Movie Nights
Our Outdoor Nostalgia Movie series kicks off on Friday, May 21 at Harnish Main Library! We'll have the big screen set up in our parking lot and sit in socially-distanced groups. Bring lawn chairs, blankets, and refreshments. Please register each family together under one adult's name and add everyone else who will be attending as a guest. Park at Spella Park or on Harnish Drive. The show begins at dusk.
Mark your calendar for these upcoming Outdoor Nostalgia Movie Nights:
Friday, May 21 • 8:15pm @Harnish Main – Raiders of the Lost Ark (1981, PG, 111 min., rec. for ages 11+)
Friday, June 4 • 8:15pm @Eastgate Branch – The Sandlot (1993, PG, 110 min., rec. for ages 8+)
Friday, June 18 • 8:15pm @Harnish Main – Grease (1978, PG, 110 min., rec. for ages 12+)
Friday, July 16 • 8:15pm @Harnish Main – Hairspray (2007, PG, 117 min., rec. for ages 11+)
Rockin' Rollick 100th Birthday Bash!
Celebrate the library's 100th birthday and the end of Summer Reading, with a family-friendly event that includes outdoor roller skating, live music, crafts, carnival games and more! Summer Reading finishers will earn a free Kona Ice and a ticket to skate at the outdoor roller rink.
Kids Programs
We'll gather on the library patio for a variety of storytimes, music, movement, and creative play. Registration is required; see our June/July Program Guide for dates and times.
Adult Programs
Join us for Yoga for All on the Library patio, an outdoor group class at Harnish Main Library for everyone from beginners to experienced practitioners. If you have a mat or yoga props, please bring them. Classes will be held each Wednesday from 9:30 - 10:30am, beginning June 2. See the June/July Program Guide for more information.