The library is currently operating on a limited schedule. We are not accepting applications for volunteers at this time.
Expand your knowledge. Meet new people. Contribute to your community.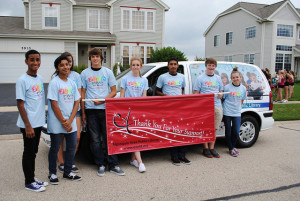 More than 300,000 people visit the Algonquin Area Public Library annually. Keeping the facilities dynamic and welcoming requires the hands-on dedication of many reliable individuals. We have plenty of room for more.
Visit our high school blog to view volunteer opportunities for students in grades 9-12.
We are currently seeking volunteers to assist with computer programs, maintain our early literacy area, help construct our float for the Founders' Day Parade, maintain our Teaching Garden, deliver library materials to our homebound cardholders, and walk with our float in the Founders' Day Parade.
Interested? Please review the Volunteer Procedures and Program Guidelines. You can apply online or print out the Adult Volunteer Application Form. You'll also need to print and submit a Background Check Authorization Form.
Please bring your completed application and background reporting forms to the Harnish Main Library or submit them via email to [email protected].